2022 Chevrolet Corvette in Kennesaw, GA

2022 Chevrolet Corvette Kennesaw, GA 
The original American supercar is the Corvette, which is soon to mark its 70th anniversary of production. Furthermore, there's a reason this two-seater has captured and held the interest of auto enthusiasts around the world. The Chevy Corvette is fast, agile, and beautiful. It has an aura about it that can be defined as pure American muscle. Now, the 2022 Chevrolet Corvette is available in Kennesaw, GA. That said, keep reading to learn more about what's new in the 2022 Chevrolet Corvette at Carl Black Kennesaw. 
[View Inventory: 2022 Chevrolet Corvette] 
2022 Chevrolet Corvette Performance Features
Truly, the new 2022 Chevrolet Corvette offers a genuine supercar experience. Further, the engine has been moved from being front mounted to a mid-engine arrangement. While this is unusual for American muscle cars, including the Corvette, the placement of the engine gives superior balance and power distribution. Check out some of the performance features and specs of the 2022 Chevy Corvette in the Z51 configuration.  
0-60 MPH in seconds

 

2.8

 

Top speed in MPH

 

184

 

Engine

 

6.2-liter V8

 

Transmission

 

8-speed dual-clutch automatic

 

Horsepower

 

495

 

Torque Lb.-Ft.

 

470

 

Drive

 

RWD

 

Estimated MSRP

 

$88,310

 

Curb Weight Lb.

 

3,647

 

Skid Pad

 

1.03 g

 
These amazing performance numbers are firmly in supercar territory, while the price tag is much more down to earth. In other words, you can have your cake and eat it, too. The Corvette offers a nearly perfect driving experience, including being incredibly well mannered as a daily driver. The suspension allows for smooth driving over rough stretches of road, and superior handling whenever and wherever.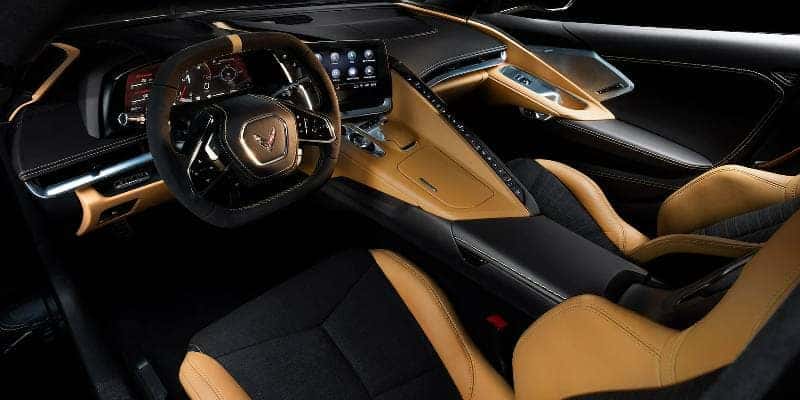 The 2022 Chevrolet Corvette also has many available connectivity, comfort, and safety features to round out your experience on the road. Stop by Carl Black Kennesaw or contact us via our website to find out more about this outstanding vehicle. Lastly, if we don't have yours in stock, we can assist you in ordering one tailored to your needs directly from Chevrolet.