GMC Hummer EV SUV in Kennesaw, GA

Like the Hummer models that have come before it, the GMC Hummer EV SUV is a commanding presence with a large frame and sharp edges. Now, it is more capable than ever, offers more versatile storage space, and does it all with the use of electric power, which means you can charge your GMC Hummer EV SUV from home. Keep reading below to learn about its best features with us.
---
GMC Hummer EV SUV storage space
The GMC Hummer EV SUV packs a lot of storage space. That's because it is both an SUV and an electric vehicle, both of which make it an optimal vehicle for moving large hauls. As an electric vehicle, the GMC Hummer EV SUV does not have a large engine up in front, as so many of us are used to. Instead, it uses the area under the hood as additional storage space, which makes it easy for you to fit your extra gear. It is a great place to store anything that you wouldn't want inside the cabin with you, like muddy shoes, because it is easy to clean. Furthermore, the front trunk is power-operated and large enough to fit the modular sky panels on the GMC Hummer EV SUV.
As an SUV, the GMC Hummer EV SUV also offers a large rear cargo space. The rear seats of this SUV can fold flat for more cargo space. The cargo floor in the back can be lifted to reveal a concealed storage compartment. There is no end to the space inside this vehicle.
---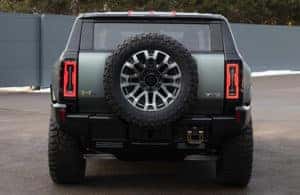 ---
GMC Hummer EV SUV camera views
Another feature that we absolutely love has been dubbed UltraVision. This available feature is a system of seventeen camera views on the GMC Hummer EV SUV that sync with the display screen inside the cabin. These different camera views can be used to reverse safely, navigate between objects, park your vehicle in a tight spot, and much more. The camera also features a washer and a replaceable lens protector so you don't have to worry about the camera becoming dirty or damaged.
---
Click here to view our GMC inventory
---