Value Your Trade
Get a real offer on your car in 2 minutes.
Trade in or sell your vehicle to Carl Black Kennesaw in just a few easy steps. Live Chat with our team 24/7.
HOW DOES IT
WORK?
Get Your Offer
– Share a few vehicle details with us via live chat and our team will reach out with a certified offer. Your offer is valid for 7 days or 500 miles! *
Trade In or Sell
– Swap out your old vehicle for a new one, or simply sell us your car and get paid.
Jennifer
Trade In Specialist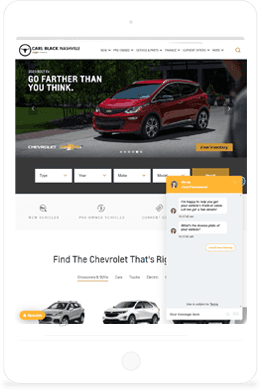 Not ready to sell today?
Your offer is valid for 7 days or 500 miles. *

FAST AND EASY PROCESS

OFFER STANDS FOR 7 DAYS*

TRADE IN NOT REQUIRED

VEHICLE PICKUP AVAILABLE*
We want your used car.
Carl Black is looking for quality used vehicles to purchase, even if you do not trade your car in. The demand for used vehicles has never been higher and you could get a lot more for your pre-owned car than you think. Chat with us today to find out what your vehicle is worth.
Previous
Next
No time to live chat?
Submit your vehicle details below and we will contact you as soon as possible!
WE buy Any car, anywhere.
Live states away? No problem. Our customers are typically looking to sell my used car near Acworth, Kennesaw, Marietta, Canton, Smyrna, Dallas, and other places near Atlanta, GA, but Carl Black will buy your pre-owned car or truck no matter where it is located! *
Frequently asked questions
Deciding where and how you will sell your car can be overwhelming. Having a lot questions and concerns during the process is very normal. That is why at Carl Black in Kennesaw GA we aim to make things as painless as possible when selling or trading your used vehicle.
What documents do I need to sell my car?
Not all of this list is needed, but having all of these items handy will help greatly speed up the process:
Vehicle History Report
Maintenance Records
Warranty Documents
Odometer Reading
VIN (Vehicle Identification Number)
Vehicle Title
Bill of Sale
How long does it take to sell a car?
The time it takes to sell a vehicle depends on how you decide to sell it. Selling a used car privately normally takes the most amount of time, due to the amount of prep work that needs to be done on both ends. Selling your pre-owned car or truck at a dealership skips most of the prep work and results in the fastest way to sell your car.
Where can I sell my car in Georgia?
There are many places to sell your used car in Georgia, including; dealerships (like us), private sales, and auctions.
Can I get more for my used car selling privately?
Some buyers will try to significantly lowball the value of your used car when selling privately. Get an offer on your trade in minutes online.
What should I know before selling my used car?
Selling a used car can be easy and painless if you know the right steps to take.
Make sure to wash your car before you sell it.
Take high quality vehicle photos of your car, inside and out. Make sure to capture any damage the vehicle has to avoid any headaches down the road.
Gather your paperwork. Make sure you have your title and bill of sale handy when selling your vehicle.
Get an online offer on your vehicle. There are many ways to get an offer on your vehicle online within minutes.
Looking for more? Live Chat with us now.
Call Us
(888) 457-2417
Email Us
Follow Us
See below
* Vehicle offer will be provided by a Carl Black specialist upon vehicle review. KBB offers through chat are not a valid certified offer. See dealer for details. 7 day offer window and 500 mile range is dependent on no other physical changes, damages, repairs needed. Vehicle may need to be reinspected upon trading or selling. Vehicle pickup is available upon a reasonable distance for Carl Black Kennesaw. Transportation fees may apply.