Chevy Dealer Near Me
Time To Stop Searching And Visit Carl Black Kennesaw, near Atlanta, GA!

If you've been wasting time searching for a "Chevy Dealer Near Me" or "best new Chevys," then you'll be relieved to know that your prayers have been answered. See why you should be opting for your next Chevy at Carl Black Kennesaw.

Why Carl Black of Kennesaw?New VehiclesSpecials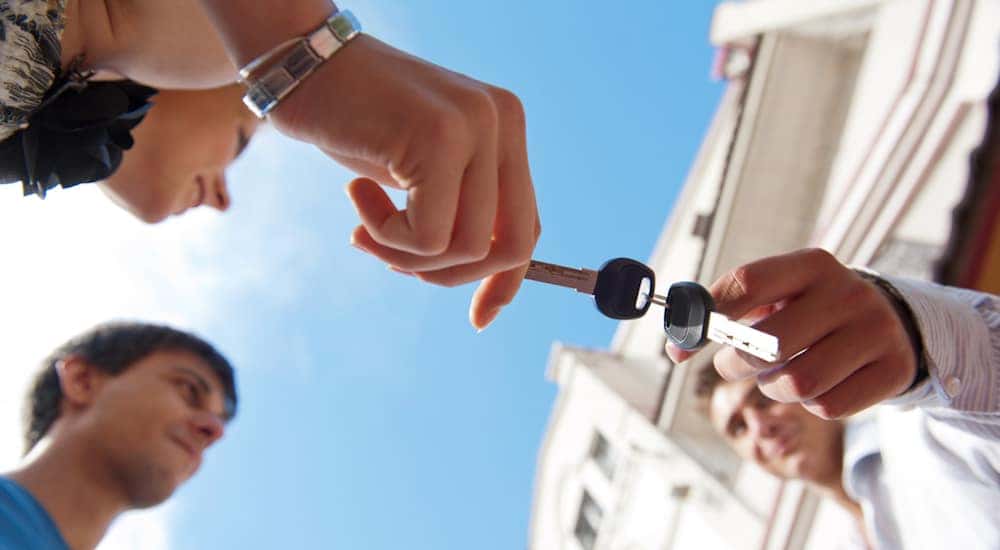 Which Chevy
Cars, trucks, SUVs. If you're a fan of choices, then you'll appreciate the number of Chevy nameplates that are currently on the market. These vehicles all provide owners with their own specific advantages, but buyers can expect one major attribute as they're shopping at a nearby Chevy dealer: consistency.
We've highlighted several of the brand's notable nameplates, providing you with an initial list of targets. Of course, it's in your best interest to explore off the Chevys that are for sale at Carl Black Kennesaw.
Chevy Malibu
This sedan is one of the most popular nameplates in the entire industry… and for very good reason. The vehicle delivers all of the attributes you'd want from a new car, including power, technology, and safety.
Customers will appreciate the ability to choose from a pair of worthy gas engine offerings, with the two options delivering a blend of performance and efficiency. The turbocharged 1.5-liter EcoTec engine manages to crank out a respectable 160 horsepower and 184 pound-feet of torque, but the system really makes a name for itself via the fuel economy. Thanks to fuel-saving technologies like the Variable Valve Timing, Direct Injection and stop/start technology, drivers can anticipate a 36-mile-per-gallon highway fuel efficiency. This incredible fuel economy makes this sleek sedan driver's ideal choice for driving a Chevy near Atlanta, Ga. The alternative engine offering is the 2.0-liter turbocharged ECOTEC engine, which boosts the performance specs to 250 horsepower and 260 pound-feet of torque.
Drivers will also appreciate the brand's MyLink system, which makes it incredibly easy to access an assortment of useful programs. The Apple CarPlay and Android Auto compatibility allows drivers to safely capitalize on their smartphone's basic functions (like calling and text messages), and the available wireless charging dock means you can keep your gadget juiced without having to deal with pesky wires.
The nameplate is even equipped with an assortment of preventative and protective safety functions. Inclusions like the Forward Automatic Braking, Lane Keep Assist (with Lane Departure Warning), and the Adaptive Cruise Control will play a role in keeping drivers out of harm's way, while the extensive airbag unit (which includes the brand's deployment sensing system) and the high-strength steel safety cage will keep occupants safe in the event of a collision.
Chevy Equinox
This particular nameplate may be a bit smaller than some of the brand's other SUV offerings, but that doesn't mean it's inferior in any way. Rather, the Chevy Equinox delivers all of the convenience a driver could possibly want from their new SUV.
If you're going to be relying on your SUV as the ultimate road-tripper, then you'll appreciate the abundance of cargo space out back. After drivers have utilized the convenient split-folding rear seats, they can capitalize on the 63.5-cubic-feet of cargo space. Plus, thanks to the hands-free liftgate, drivers will never have to dig into their pockets for their keys as they're looking to access the rear of their SUV.
Of course, drivers will also appreciate the trio of impressive engine offerings, each of which provide their own impressive specs. The 1.5-liter turbo engine is for those seeking optimal fuel economy from their new ride, as the system is ultimately capable of delivering a 32-mile-per-gallon highway fuel efficiency. While drivers are probably expecting efficiency from the 1.6-liter turbo-diesel engine, we can bet they wouldn't expect the practically unmatched 39-mile-per-gallon highway fuel efficiency. Finally, for those seeking power, the 2.0-liter turbo engine pairs up with a nine-speed automatic transmission to crank out 260 pound-feet of torque, leading to a 3,500-pound towing capacity.

Silverado 1500
Power, power, power. That's what drivers generally expect from a new pickup truck, and the Silverado 2500 definitely doesn't disappoint. Regardless of which offer you decide to opt for, you'll undoubtedly be happy with your choice.
The 4.3-liter V6 engine delivers of a whole lot of power, promising drivers 285 horsepower and a best-in-class (among standard V6s) 305 pound-feet of torque, all leading to a 7,600-pound towing capacity. Even with all of this power, the system still manages to be plenty fuel efficient, promising drivers a 24-mile-per-gallon highway fuel efficiency. 
The next step up is the 5.3-liter V8 engine, which boosts those power specs to 355 horsepower and 383 pound-feet of torque. Predictably, these numbers have a huge influence on the towing capacity, as drivers can ultimately expect an 11,100-pound towing capacity. Most impressively, the truck promises a best-in-class V8 fuel efficiency of 24-miles-per-gallon on the highway.
Finally, the 6.2-liter V8 is predictably for those seeking the utmost power from their new pickup, as the unit delivers 420 horsepower and 460 pound-feet of torque. The 12,500-pound towing capacity will be appreciated by those who are seeking the ultimate hauler, while the 21-mile-per-gallon highway fuel efficiency is respectable for such a hulking, powerful truck.
Why Carl Black?
It's time to take back your car-buying experience. You're about to make a big purchase, and you deserve a stress-free, enjoyable adventure. You can expect all of that if you opt for a vehicle from Carl Black Kennesaw. 
If you live near Cobb Country, Georgia, see why you should be prioritizing this Chevy dealer near you in Altanta, Ga…
Inventory
The dealership is fully stocked with a number of logical targets, allowing you to truly zero in on the Chevy that best fits your needs. Carl Black Kennesaw has hundreds and hundreds of new vehicles, including a variety of body types. While we're sure you're focused on opting for one of Chevy's nameplates, this dealership is also your hub for new Buicks and GMCs.
There are even options for those seeking a pre-owned vehicle, as the dealership also has hundreds of these targets for sale. Therefore, even if you're on a budget, you can still turn to Carl Black Kennesaw for your upcoming purchase.
Hours
Open seven days a week with incredibly flexible hours, you'll never have to rewrite your schedule if you're attempting to visit Carl Black Kennesaw. The sales department is open every day of the week, including starting at 9 am on Monday through Saturday. The dealership closes at 9 pm on these days, allowing you to even make a purchase after you've left work.
The service and parts departments also have incredibly flexible hours, as they're open at 7 am on Monday through Friday (they're also open at 8 am on Saturday). If you need some basic maintenance completed before work, you can quickly stroll into the dealership.
Services
Carl Black Kennesaw doesn't only have to be your "car seller." Instead, they can provide you with mechanics and financing, allowing them to be by your side throughout the lifetime of your Chevy.
If your credit is in bad shape, you should turn to Carl Black Kennesaw before you make your purchase. There's a good chance that the dealership will provide you with that necessary financing, and you won't have to stress about unrealistic monthly payments.
Meanwhile, if you run into any issues with your Chevy, you can turn to the dealership's service department to quickly fix up your ride. Instead of dishing out an arm and a leg to have an unknown, untrustworthy mechanic fixing your ride, rely on Carl Black Kennesaw to get you back on the road.