How Much Can I Fit in the 2019 GMC Acadia?

2019 GMC Acadia Cargo and Passenger Space
The family-friendly 2019 GMC Acadia offers enough room to carry the whole family along with everything you could need for your next adventure. But just how much can you fit in the 2019 Acadia? This guide from Carl Black Kennesaw is going to break down the 2019 GMC Acadia cargo and passenger space to give you an idea of all that you can fit in your next Acadia.
GMC Acadia Cargo Space
The spacious 2019 GMC Acadia provides drivers with enough room for trips to and from soccer practice while offering customizable seating to expand the cargo area when you need it. When all three rows of seating are in place in the 2019 Acadia drivers can make use of the 12.8 cubic feet of standard cargo space in the rear of the vehicle. For days when you need a little more room and not as much seating, you can fold down the third row of seats to open up 41.7 cubic feet of space. Do you need all the space you can get? You can fold down both the second and third row to create 79 cubic feet of free cargo space.
The 2019 GMC Acadia offers a number of available cargo accessories to help keep your cargo safe while on the road. Drivers can opt to include the Cargo Management System Rails, Cargo Tie-Downs, the Cargo Stabilizer, a Collapsible Cargo Area Organizer, and other accessories to help with their next adventure.
Read more: An in-depth look at GMC SUVs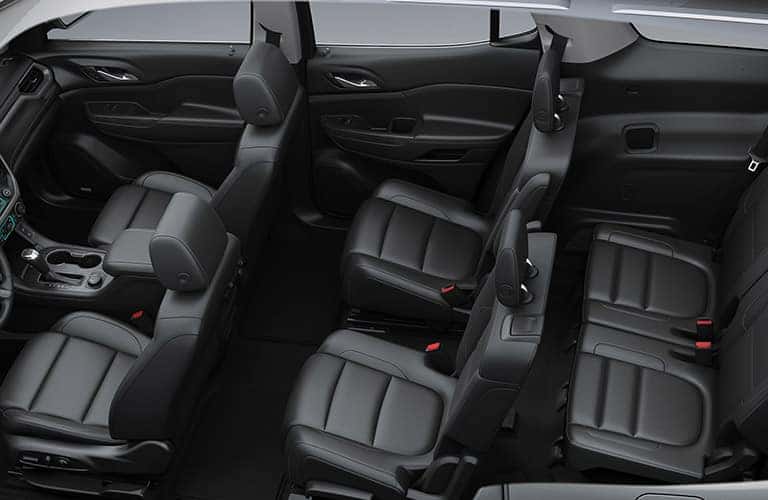 How Many Passengers Can Fit in the 2019 Acadia?
The Acadia makes room to comfortably fit up to six passengers on every trip. The spacious passenger area will keep every passenger comfortable throughout every trip. Drivers can opt for leather or cloth seating to fill their Acadia with to add a touch of luxury throughout each and every ride. Below we have listed the passenger space dimensions in the Acadia to give you an idea of how spacious the seating areas are in the 2019 GMC Acadia.
Interior Passenger Dimensions
Headroom (Front/Second/Third Row) – 40.3 inches/ 39.6 inches/ 37.2 inches
Leg Room (Front/Second/Third Row) – 41 inches/ 39.7 inches/ 31.1 inches
Shoulder Room (Front/Second/Third Row) – 59.4 inches/ 58.7 inches/ 54.3 inches
Hip Room (Front/Second/Third Row) – 55.7 inches/ 53.3 inches/ 42.9 inches
Head over to our online inventory where you can view the lineup of available in-stock 2019 GMC Acadia models at Carl Black Kennesaw in Kennesaw, GA.