Five Reasons You Will Hate GMC Trucks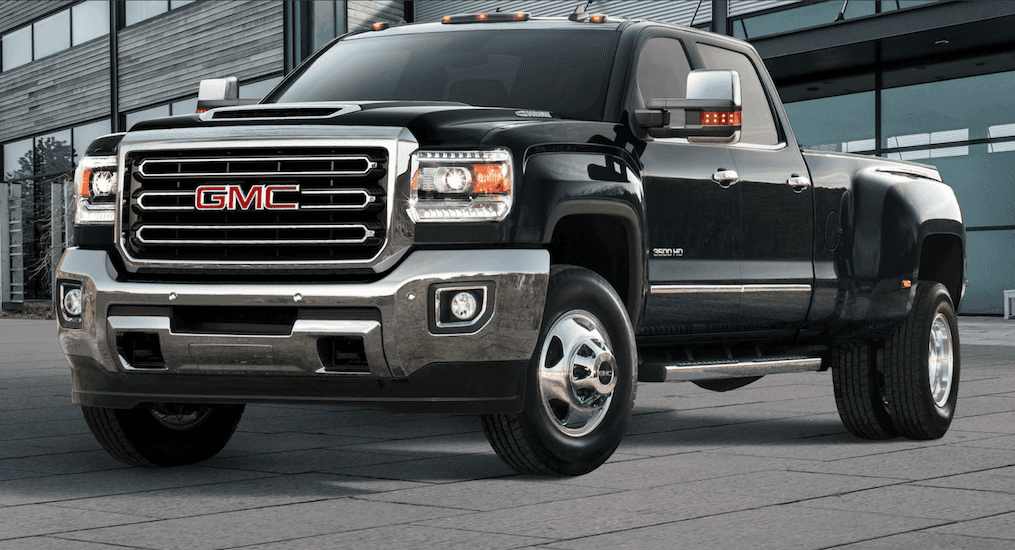 GMC trucks may seem as if they are the world's best lineup of pickup trucks with their bold exterior, refined interior, seemingly limitless power, and reliable manufacturers who specialize in trucks, but there is so much more to these beasts of the road.  GMC trucks will make you feel inferior with their impressive performance, and make you feel completely reliant on their endless list of luxury features. So, in order to open your eyes to the truth about GMC trucks, here are the top five reasons you will hate GMC trucks.
They Make You Feel Weak
GMC trucks are some of the toughest vehicles this nation has to offer the public. Even the light-duty options, like the Sierra 1500, will haul over 12,000 pounds. The heavy-duty options, like the Sierra HD, are even worse with their obnoxiously strong 23,300 pounds of max towing potential. Oh, you want something right in the middle, well, of course, they have that too with the GMC Canyon just so that they can make you feel weak on all levels of the spectrum.  With their impressive selection of intimidating and refined V8 engines, you will never again feel like the most powerful being on earth. It is almost ridiculous how much power they have, and that power will just make you feel weaker. Sure, it can be useful and kind of cool to have such a command over the road, but is it really worth your ego?
They Are All About Luxury
What happened to the good old days when people were fine with what they got? GMC trucks are not the hard and heavy trucks we used to know. Instead, they are all about luxury cabins with refined tastes that make you feel good and comfortable instead of just letting us be tough and proud. They probably think they are so much better than us with how much they can offer to make our lives better than we ever dreamed they could be. Why must vehicles these days be so insistent on giving us such refinement and class when no one even asked for it? Who really needs or wants such high-class items like dual-zone climate control, ventilated and heated leather seating, soft-touch instruments, contrast stitching, aluminum accents, fancy cargo spaces, and noise-reducing technology? A box with wheels will do just fine thank you very much.
They Deceive You with Their Hidden Intelligence
You see these big GMC trucks with all their boldness and strength, and you think you are glad that at least they are dumb right? Well, wrong, these trucks are just as intelligent as they are strong and they are trying to deceive you with that tough truck exterior, but we no longer have to be fooled.
GMC trucks offer a specialized 7-inch or 8-inch infotainment system with all the connectivity you could ever want.  You can connect your smartphone directly to your GMC truck so that you never get to miss anything that is going on. You will be able to receive texts and calls right from your truck without missing a beat. So say goodbye to having a way of avoiding those-ending never calls with loved ones. You will also be able to listen to your own music which will hurt the radio industry, except that they also have SiriusXM satellite radio. You will also get to add a wireless charging station for your smartphone, but who even cares if their phone dies while on the road.
Well anyway, GMC Trucks also come with optional 4G LTE Wi-Fi so that you will be able to escape the internet with its memes and cats, and you will have no excuse when your boss asks why you didn't read their email. Good luck getting out of work now.
Oh, and of course they have an app for that. My GMC Mobile makes it so you can stay connected with your GMC truck anywhere you go.  Locate your truck, start your truck, check the stats on your truck, whenever you want which will probably just make you obsessed with it like Golem and the ring.
Basically, this intelligence is just a big inconvenience unless you enjoy being able to do pretty much anything and everything from your truck.
They Are Too Adventurous
If you feel like going crazy and trying to experience all this world has to offer then go ahead and get a GMC truck. With their off-road potential and all-terrain packages, you will be able to run off into the unknown without a second thought. The least of what a GMC truck has to offer in off-roading potential is overwhelming:
5.3L V8 engine with 355 hp and 383 lb.-ft. of torque
Available 6.2L V8 engine with 420 HP
Off-road suspension with monotube Rancho shocks
Hill Descent Control
Protective underbody shielding
Off-road Inclinometer
Rear Park Assist
Autotrac 4WD transfer case
High-capacity air cleaner
Goodyear DuraTrac mud-terrain rated 18″ tires
Performance Cat-back performance exhaust system (only with the 5.3L V8 engine)
Black bed mounted tubular Sport bar and B-pillar vinyl wrap
GMC trucks inspire people to get out and do crazy things they never believed were possible. They are also extremely safe with all these advanced safety features so that you won't even worry about doing all these things. Honestly, it seems like staying at home and looking at pictures is just as exciting as driving through rocky trails and crazy weather conditions but to each their own.
They Are So Comfortable You Won't Want To Leave
GMC trucks are so well-made that the second you enter their cabin, you will feel like you are at home, which makes it really hard to ever leave. The soundproofing technology such as a valved exhaust system, aerodynamic exterior mirrors, triple-sealed doors, and hydraulic body mounts along with hydraulic engine mounts, will make it is peaceful you might even fall asleep. You also have all these fancy tech features that make it so you will always stay connected with the outside and entertained. You will feel so comfortable and content in the cabin of a GMC truck that won't ever want to get out to even go home, let alone get out to go to work once your drive there. Honestly, it's just a productivity hazard waiting to happen.
What to Avoid
GMC Sierra 1500
MSRP: $29,000
Dimensions: 205-239″ L x 80″ W x 74″ H
Horsepower: 285 to 420 hp
Torque: 305 to 460 lb-ft
Towing: 12,500 lbs.
Payload: 1,739 to 2,018 lbs.
MPG: 24 highway
GMC Canyon
MSRP: $21,100
Dimensions: 212-225″ L x 74″ W x 70-71″ H
Horsepower: 181 to 308 hp
Torque: 191 to 369 lb-ft
Towing: 3,500 to 7,700 lbs.
Payload: 1,418 to 1,587 lbs.
MPG: 30 highway
Sierra 2500HD
MSRP: $35,000
Dimensions: 224-258″ L x 80-81″ W x 78″ H
Horsepower: 360 to 445 hp
Torque: 380 to 910 lb-ft
Towing: 13,000-18,100 lbs.
Payload: 2,968 to 3,559 lbs.
Sierra 3500HD
MSRP: $36,100
Dimensions: 224-258″ L x 80-96″ W x 78″ H
Horsepower: 360 to 445 hp
Torque: 380 to 910 lb-ft
Towing: 13,000-23,300 lbs.
Payload: 3,283 to 6,137 lbs.
Where to Avoid Buying GMC Trucks
Carl Black Kennesaw is one of the most reliable and trustworthy dealers in the Kennesaw area. At Carl Black Kennesaw you will find the best selection of GMC Trucks that you will love to hate. The rugged refinement of these GMC trucks will leave you stunning on sight, so you better be careful when exploring your local GMC dealerships. If you are looking for the best place to avoid so that you don't accidentally invest in one of these deceptively brilliant, powerful, comfortable, and stylish GMC trucks, then Carl Black in Kennesaw is one of their top providers to look out for. Just know that you have been warned!