GMC Terrain: Taking Over Towns Across America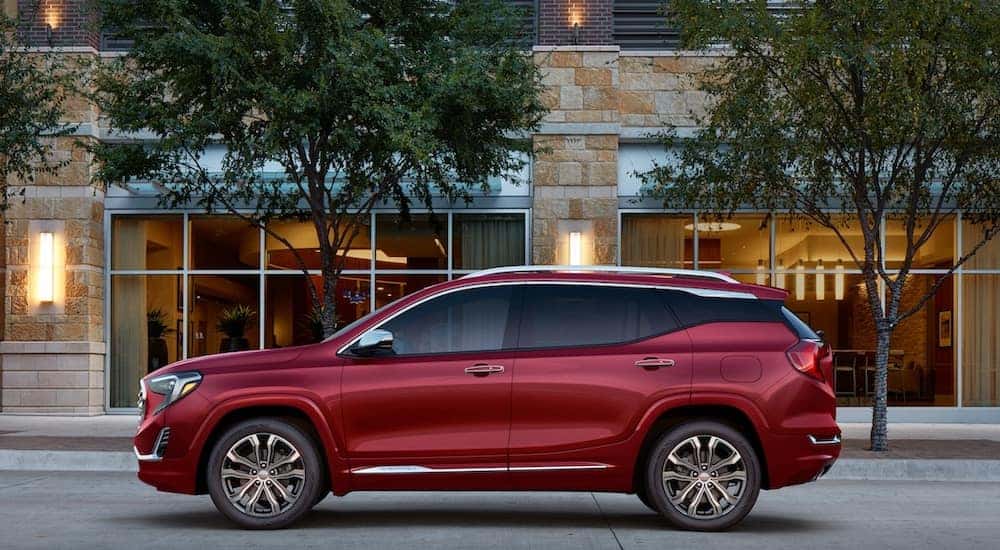 With all of the new SUVs hitting the market, how are you ever supposed to decide which make and model are right for you? Well, why not start with the brand that's seen a 6.6 percent sales increase in just this past quarter alone? In fact, why not take it one step further and explore the SUV that's sweeping the nation in popularity, the GMC Terrain? We are sure we don't have to convince you of the GMC Terrains popularity, after all, many of your neighbors probably have shiny Terrains parked prominently in their driveways. However, if you're into numbers, let us remind you that, according to NewsWheel, "the Terrain's year-to-date sales are up by 30.9 percent, making the first half of 2018 the best half-year sales period ever for the Terrain." It's no wonder that your local GMC Dealer has been busier than usual – the Terrains are flying off the lots and into the hearts of American's at an astonishing rate.
Of course, if you aren't familiar with what makes the GMC Terrain such a fantastic SUV, we can't blame you for being a little surprised at how quickly they have become so beloved. If you're in the marketing for a new SUV, be sure to read on to find out why the GMC Terrain is the SUV you should be driving home in today. Before you know it, you'll be leaving your GMC dealer with a smile on your face and the keys to a new Terrain in your hand.
Exterior Elegance
The first thing to know about the GMC Terrain is that it underwent a complete redesign in 2018, so if you are planning on shopping for used models, be cognizant that some of the features may have changed as the Terrain was updated. However, if you're shopping for a 2018 model, you are in for a serious treat.
The 2018 model redesign saw the five-passenger GMC Terrain lose some of its bulkier exterior in favor of a more streamlined, slim-down silhouette. C-shaped LED headlamps and taillamps coupled with the Terrain's imposing front grille sets the tone for the classy SUV. Additionally, with an impressive selection of available exterior colors, you don't need to worry about your Terrain blending in with the crowd. Available colors include Quicksilver Metallic, Ebony Twilight Metallic, Red Quartz Tintcoat, Summit White, Graphite Gray Metallic, Blue Steel Metallic, Satin Steel Metallic and Coppertino Metallic. The hardest choice you'll have to make leaving the dealership isn't deciding which SUV to buy, it's deciding which color Terrain to buy!
Appealing Interiors
Lest you think that the exterior is the only part of the Terrain that's eye-catching, you should also realize that you'll have a choice of interior colors as well. Of course, you could go classic chic with a Jet Black on Jet Black interior scheme, or you could mix it up and go supremely stylish with Jet Black on Brandy upholstery. Of course, there is always the subtle yet refined Jet Black on Medium Ash Gray combination as well. The choice truly is yours when it comes to your Terrain's aesthetic – both interior and exterior.
Trims
Of course, the choice is also yours when it comes to your 2018 GMC Terrain's trim type. With four trims to choose from, you are bound to find one that both meets and exceeds your wants and needs – all for a price that seems too good to be true. Take the base model 2017 GMC Terrain SL – with a starting MSRP of just $24,995, the SL comes well appointed with amenities including a 7-inch display screen, Apple CarPlay, Android Auto, a leather-wrapped steering wheel, and keyless entry. That's certainly quite the package for a base-model SUV.
However, if you're looking for a trim that packs a little more punch, the 2018 GMC Terrain SLE offers buyers the ability to add on several packages that can ramp up the SUVs level of luxury. Choose between the Driver Convenience package (features include dual-zone climate control and heated from seats), the Driver Alert 1 package (with lane change alert, blind spot monitoring, rear cross traffic alert and rear parking sensors included) or the Infotainment 1 package (upgraded display screen, navigation and satellite radio included) if you want to elevate your Terrain and customise your car's features. The 2018 GMC Terrain SLE starts at $27,900.
With a starting price of $31,400, the 2018 GMC SLT offers high-end features such as leather seats, a 110-volt power outlet, additional USB ports and satellite radio. Just as with the SL, the SLT trim offers buyers the chance to add several package options, including the Driver Alert II package, which makes your Terrain super-safe thanks to lane keep assist, low-speed automatic braking and lane departure warning. You can also equip your Terrain with a Bose audio system and HD Radio via the Infotainment II package. To really round out your Terrain, you could also include a heated steering wheel and a hands-free liftgate – all you have to do is include the Preferred package for $1,250.
Finally, if you're simply after the creme-de-la-creme of SUVs, look no further than the $37,600 2018 GMC Terrain Denali. Absolutely loaded with amenities, a few highlights include navigation, rear parking sensors, HD radio, and rear cross traffic alert. Of course, there are packages available for the Denali trim, such as the Advanced Safety package, which adds a 360-degree camera. Of course, while adding in safety features is always a good idea, keep in mind that the 2018 GMC Terrain boasts a four-star overall safety rating from the National Highway Traffic Safety Administration as well as the top score of "good" across the board from the Insurance Institute of Highway Safety's crash tests.
Find Your Terrain Today
It's not a fluke that the GMC Terrain has gained so much traction in the market. Reasonably priced, well-equipped and seriously safe, the Terrian is the ideal family or commuting SUV. Stop into Carl Black Kennesaw and let us formally introduce you to the 2018 GMC Terrain today!