The 2018 Chevy Trax WILL Not Be Ignored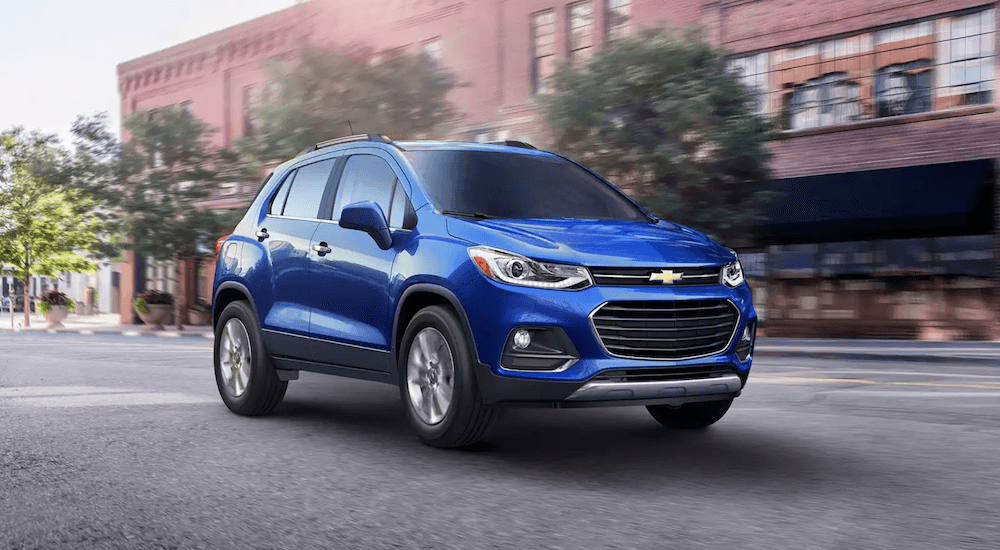 Customers may naturally ignore the 2018 Chevy Trax as they're shopping at any of the Atlanta Chevy dealers, but these individuals would be making a huge mistake. While the SUV may be smaller and less alluring than the brand's other options, the nameplate has actually proven to be a perfectly-capable target.
That's because engineers did an admirable job of including a number of notable features in the Trax. Drivers can expect reliable safety functions, top-notch technology, efficient engines, and impressive interior space attributes that all of the more-expensive options provide. In other words, while the Trax may be lacking in the style department, it's competing with "superior" vehicles in practically every other area.
Below, we've explored some of the impressive attributes included in the 2018 Chevy Trax. That way, when you do ultimately visit that Atlanta Chevy dealer, you won't make the mistake of ignoring this nameplate..
Safety
The Trax is an affordable SUV, and a big reason for that sentiment can be attributed to the wide variety of safety functions. These inclusions won't only play a significant role in assuring occupants' well-being in the event of a crash. Rather, they'll also help to prevent those accidents from occurring in the first place.
When it comes to preventative safety functions, the Forward Collision Alert may be one of the more innovative inclusions. This feature can determine when you're approaching another object at too great of a speed, thus providing the driver with a dependable co-pilot. The Side, Blind Zone Alert, will alert you if another driver has snuck up beside your SUV, while the Lane Departure Warning will notify you when it's unsafe to switch lanes. Even inclusions like the Rear Park Assist and Rear Cross Traffic Alert are notable functions, as they'll prevent you from landing in a pesky (and potentially dangerous) fender bender.
In the event that you do end up in a collision, the Trax will more than have your back. The vehicle is equipped with ten airbags, and the accompanying smart sensors assure that they'll deploy without causing injuries. Meanwhile, the high-strength steel safety cage won't compromise due to a crash, and it should absorb the majority of a collision's energy (thus keeping it away from the occupants). If help is needed, drivers can turn to the OnStar Automatic Crash Response System. This will connect them with an OnStar Advisor, who can subsequently summon emergency help to the site of the crash.
Engine
The engine that's lingering under the hood of the 2018 Chevy Trax certainly won't make headlines for crazy power or performance specs. However, there's no denying that the unit is reliable and consistent, and owners will appreciate some of the accompanying benefits, as well.
For starters, the 1.4-liter turbocharged ECOTEC engine delivers adequate power at 138 horsepower and 148 pound-feet of torque. However, the system truly makes a name for itself thanks to the incredible efficiency specs. Thanks to inclusions like Electronic Fuel Injection and the ECOTEC technology, drivers can ultimately anticipate a 33-mile-per-gallon highway fuel efficiency. Owners will already be saving a chunk of money when they opt for the Trax over any of the brand's other SUV offerings, and the incredible efficiency specs provide them with another opportunity to save some cash.
Technology
Do you tend to go on long rides with your family? Then we're sure you're familiar with your children constantly complaining about being bored. Well, thanks to the technological amenities included in the 2018 Chevy Trax, those complaints should be a thing of the past!
The majority of this sentiment can be attributed to the Chevrolet MyLink system, which provides quick and easy access to an assortment of applications. Looking to listen to your favorite radio station? It's the click of a button away. Looking to find nearby malls or movie theaters? That's easily accessible, as well. The MyLink system essentially serves as your personal concierge, so you can turn to the technology when your children start to get antsy. If you'd prefer, you can even rely on the Apple CarPlay and Android Auto technology, which will make your smartphone compatible with that touchscreen unit. This means you can perform many of your phone's basic functions, including texts and phone calls.
If you're really looking to improve the traveling experience, you could consider equipping your new SUV with the available 4G LTE Wi-Fi. This inclusion provides a strong wireless internet connection for up to seven devices, meaning there will never be any squabbling over who gets access. Therefore, whether your passengers need to complete work or simply want to browse the web, it will all be possible thanks to the Trax.
Interior Space
Of course, one of the major incentives of pursuing a SUV has to do with the vehicle's abundance of cargo space. Despite being one of the smaller offerings in the class, the 2018 Chevy Trax still manages to deliver a whole lot space.
The vehicle automatically delivers 18.70-cubic-feet of space, but that number is elevated to an impressive 48.40-cubic-feet of space when the rear seats are hidden. Engineers also made the interior long and versatile, meaning owners shouldn't have any issues fitting cargo that's up to eight-feet long. In other words, regardless of what you're hauling, you can be confident that it will fit inside this SUV.
Of course, the vehicle also fits up to five passengers, and these occupants will have plenty of room to stretch. While you may not be able to serve as a de facto school bus, you'll still have plenty enough space to haul your children (and all of their accompanying cargo) to and from school and practices.
If you've decided to pursue this SUV at any Atlanta Chevy dealers, you can't make a better choice than Carl Black Kennesaw (Chevy Buick GMC). The dealership makes the buying process as easy as possible for the customer, providing them with a number of services that will come in handy before and after they've made their purchase. Add in that unmatched prices and the knowledgeable sales team, and you've be hard pressed to find an easier experience elsewhere.