The complete line of Chevy cars: What's right for you?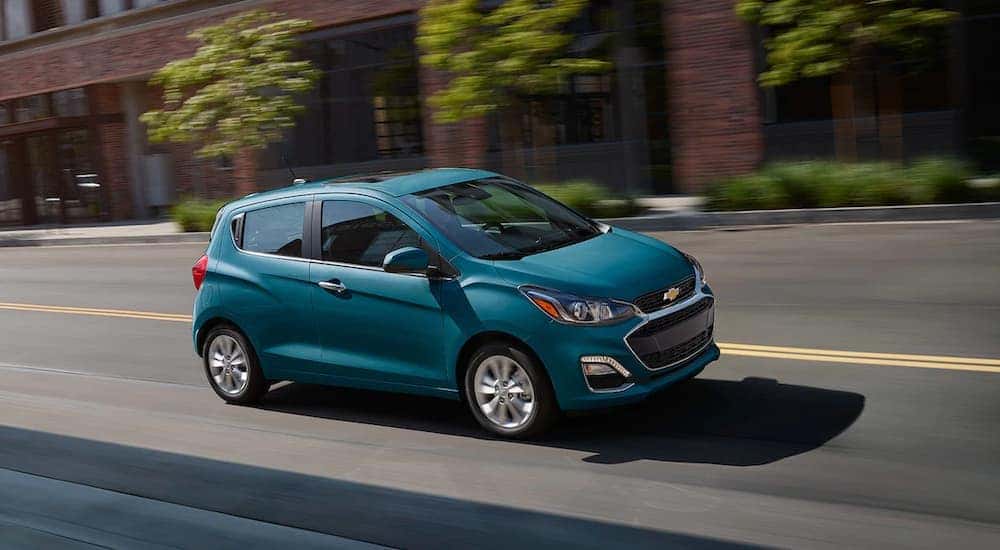 A lot of car buyers ask the question, "Which car is right for me?" From the buyer's perspective, there are many factors embedded within that question. Which car fits within my budget? Which car offers the features I'm looking for? Which car provides the best fuel economy? Which car offers the best safety features? Chevrolet receives some of the highest marks available from reviewers for its vehicles' comfort, efficiency and reliability. Often the choice between Chevy cars comes down to what vehicle best suits the buyer's needs and budget.
From the small and economical to the mid-size sedan to the eco-friendly to the performance-focused, let's take a look at the complete line of Chevy cars that are available to today's buyers.
Spark
For budget-minded drivers, the Chevy Spark offers features typically found on larger vehicles across its available four trim levels. All Sparks come with a 1.4L four-cylinder engine which is coupled with either a five-speed manual transmission or a continuously variable automatic transmission (CVT). Another bonus of the Spark is its small size, which will allow you to park it just about anywhere.
The Spark LS is the base model and comes standard with alloy wheels, air conditioning, rearview camera with touchscreen, Android Auto, Apple CarPlay, USB and Bluetooth connectivity, four-speaker audio system and Chevy's OnStar communications system.
Moving up through the line adds features such as power windows, mirrors and door locks, as well as remote keyless entry, fog lights, cruise control, heated front seats and improved audio systems. The 2LT trim level offers rear parking sensors, push button start, an upgraded touchscreen display, and a Driver Confidence Package which includes forward collision warning system and a lane departure warning system. Both the 1LT and 2LT also offer an optional sunroof.
Fuel economy on the base model ranges from 30 mpg city to 38 mpg highway, and MSRP for the Spark ranges from $13,220 to $17,720.
Sonic
Chevy's Sonic is a solid offering worth considering if you're looking for an affordable sedan or hatchback in a crowded subcompact class of vehicles. It is currently available in thee trim levels. While small in stature, the Sonic is a spirited car with good steering and handling, powered by a standard turbocharged engine, paired with either a six-speed manual or six-speed automatic transmission.
The minimalistic LS base model includes basic features standard such as automatic headlights, manual side mirrors and manual windows, a rearview camera, and remote keyless entry. Like the Spark, the Chevy Sonic also offers a touchscreen display, Bluetooth, Android Auto and Apple CarPlay connectivity, two USB ports, a four-speaker sound system, and GM's OnStar.
Advancing up the line gets rid of the manual windows and mirrors in favor of their power counterparts and upgrades the audio system to satellite radio with six speakers. An optional Convenience Package adds push button start, heated front seats and an improved touchscreen display. The Driver Confidence Package includes forward collision alert, lane departure warning and rear parking sensors.
Fuel economy on the base model ranges from 27 mpg city to 35 mpg highway, and MSRP for the Sonic ranges from $15,420 to $20,720.
Bolt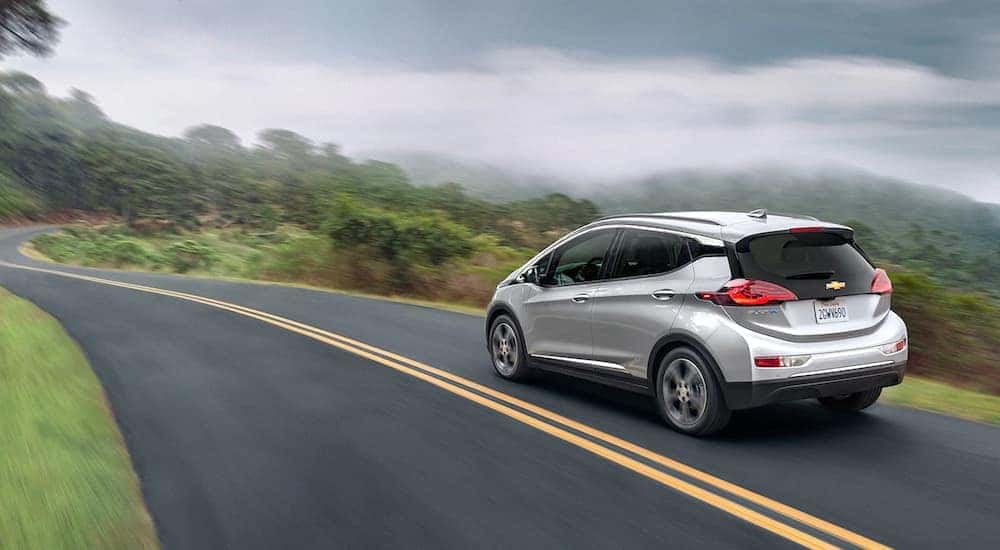 An electric offering, the Chevy Bolt EV, is one of only a few electric vehicles that offers long-distance travel – an average of more than 200 miles on a single charge – at a relatively affordable price. The Bolt is offered in two configurations. Both share the same 200 hp electric motor and large 60-kWh battery.
Standard features include automatic headlights, heated side mirrors, a rearview camera, remote keyless entry and remote start. Interior features include climate control, ambient lighting, large touchscreen display, OnStar, Bluetooth, Apple CarPlay and Android Auto integration, and a six-speaker sound system with auxiliary audio jack and satellite radio.
Additional features available at the higher trim level include roof rails, leather seating, heated rear seats and a parking camera system. Optional on both trim levels is the Driver Confidence II package, which adds a collision warning system with pedestrian detection, a lane departure warning and lane keeping system, and automatic high beams. DC fast-charging capability is also available, which allows for the use of 400-volt Level 3 charge stations that can provide an 80% charge in less than an hour.
MSRP for the Bolt ranges from $36,620 to $40,905.
Malibu
Chevy's trusted Malibu has been refreshed for 2019 with a new transmission, front and rear styling, and updated infotainment system. it is currently available in five trim levels. The L, LS, RS, and LT are all powered by a turbocharged 1.5L four-cylinder engine paired to a new continuously variable automatic transmission (CVT).
Starting with the base L model, standard features include the CVT automatic transmission, keyless entry and ignition, cruise control, a backup camera and air conditioning. Also included are a new 8-inch touchscreen system which integrates both Apple CarPlay and Android Auto, OnStar and a six-speaker audio system, all of which are standard equipment.
Moving up the line, additional features include Chevy's Teen Driver system, a 4G LTE connection with Wi-Fi, 18-inch alloy wheels, leather-wrapped interior components, eight-way power-adjustable driver's seat with power lumbar, remote start, heated mirrors and front seats, satellite radio. For both the LS and RS trim levels, a seat-belt assurance system is available which will not let the driver shift out of park unless their seat belt is buckled.
The Malibu's Hybrid variant combines a 1.8L four-cylinder engine with an electric motor, producing a combined 182 hp. It features an electronic parking brake, heated seats, optional LED taillamps and an 8-inch color display.
The top of the line Premier trim offers an upgraded turbocharged 2.0L four-cylinder engine with a nine-speed automatic transmission. Also included are a power-adjustable passenger seat, navigation system, a nine-speaker audio system, wireless charging pad, and heated outboard rear seats.
Fuel economy on the base model ranges from 29 mpg city to 36 mpg highway, and MSRP for the Chevy Malibu ranges from $22,090 to $31,670.
Camaro
A venerable muscle car for the ages, Chevy's Camaro has also been refreshed for 2019, with new exterior styling a brand new, state of the art infotainment system. The Camaro comes as a coupe or convertible, and is available in a staggering seven different trim levels. The LS and LT models come standard with a turbocharged four-cylinder engine, with the option of moving up to a V6. The SS models have a V8, and the ZL1 bumps things up to a supercharged V8.
Standard features include limited-slip differential (manual transmission only), keyless ignition and entry, rearview camera, Bluetooth, OnStar, touchscreen display, Android Auto and Apple CarPlay integration, and a six-speaker sound system.
Moving up the line, higher trim levels include features such as remote start, satellite radio, climate control, heated front seats and leather seating. Both the 1LT and the 2LT trim levels offer the option of a Technology Package, which upgrades the audio to a nine-speaker Bose system, and also offers an improved touchscreen.
The 3LT includes the V6 engine as standard, includes the aforementioned Technology Package, and also adds GPS navigation to the mix.
The 1SS upgrades the engine to 6.2L V8 with a six-speed manual or 10-speed automatic transmission and other performance-based features.
The top of the line Chevy Camaro ZL1 bumps things up to the supercharged version of the V8. The optional ZL1 1LE Extreme Track Performance Package adds aluminum wheels with wider tires and race-oriented suspension.
Fuel economy on the base model ranges from 20 mpg city to 30 mpg highway, and MSRP for the Camaro ranges from $25,000 to $61,500.
Check our the most recent design changes that Chevrolet has announced for the line of 2020 Chevy Camaro models.
Corvette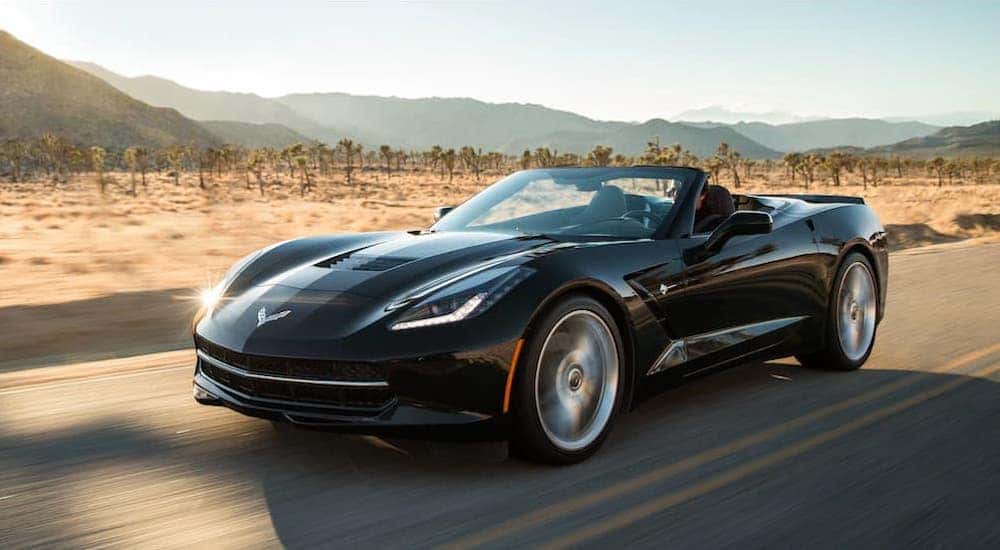 Today's Chevy Corvette, part of the seventh generation of this car introduced in 2014, continues its long reputation as a homegrown car that is a blast to drive, and is available as either a coupe or convertible in four models, each with several trim levels.
The Stingray, Z51 and Grand Sport models each get a 6.2L V8 engine. A seven-speed manual transmission is standard, with the option of an eight-speed automatic.
Standard features include 18-inch front and 19-inch rear wheels, keyless ignition and entry, dual-zone climate control, leather upholstery, and power-adjustable front seats. Additional interior improvements feature OnStar, Bluetooth, touchscreen display with Chevy's MyLink infotainment interface, rearview camera, Apple CarPlay and Android Auto, and nine-speaker Bose sound system with satellite radio. Optional features include a theft-deterrent system, upgraded 10-speaker sound system, a navigation system that includes the Corvette's unique performance data recorder, sportier suspension tuning, and electronic limited-slip differential.
The Z06 1LZ adds features such as a supercharged V-8, sport-tuned suspension, wider tires, and a carbon-fiber hood and the high-end ZR1 ups the power to 755 hp and can be equipped with a seven-speed manual or eight-speed automatic transmission.
Fuel economy on the Stingray model ranges from 16 mpg city to 25 mpg highway, and MSRP for the Corvette ranges from $55,495 to $128,900.
Finding Chevy Cars
Regardless of which Chevy car you're looking for there's something everyone. Fuel economy, luxury and pure speed, you're sure to find one of the many Chevy cars to fit your day to day needs.