How much can a Chevy 6500 tow?

Tough jobs demand a tough truck. That's where the 2019 Chevrolet Silverado 6500HD Chassis Cab comes in. This powerful pickup boasts a heavy-duty, broad frame that can withstand even the heaviest of loads. Best of all, it can be upfitted to meet any business need. It's all thanks to the 2019 Chevrolet Silverado Chassis Cab's solid structure. That said, just how much can the Chevy 6500HD tow? Thanks to its powerful Duramax® engine and new design, the 2019 Chevrolet Silverado 6500HD has a GVWR of 21,500-23,500 lbs.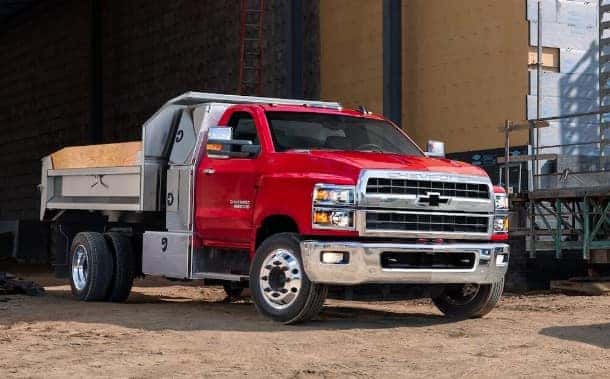 What is a Chevy 6500?
The 2019 Chevrolet Silverado 6500HD is the most powerful Silverado model available and is a Class 6 truck. It's powered by a Duramax® 6.6-liter turbo-diesel V8 engine and an Allision® transmission. It is available in regular and crew cab configurations and boasts a tough frame that is built for easy upfitting. The 2019 Chevrolet Silverado 6500HD also has a tilt engine cover for easy engine maintenance, a battery box conveniently located under the driver's side of the cab, a wheel cut of up to 50 degrees for an improved turning radius and much more.
Read More: What accessories should my truck have?
It's also available in a variety of configurations. Choose from everything from truck boxes to service body upfits. The possibilities are endless! All 2019 Chevrolet Silverado HD Chassis Cab models are also available with Fleet Support. This includes a 5 years/100,000 miles limited engine warranty, up to 5 years/unlimited miles limited transmission warranty and a 3 years/36,000 miles limited chassis warranty.
Benefits of the 2019 Chevrolet Silverado Chassis Cabs
The new 2019 Chevrolet Silverado Chassis Cabs, the 4500HD, 5500HD and 6500HD, are built specifically for easy uplifting. All too often, fleet managers run into a great dilemma when they encounter projects that require trucks with a GVWR of over 19,500 lbs. At that point, many consider purchasing a new truck to meet the needs of the project.
With the 2019 Chevrolet Silverado 6500HD Chassis Cab, fleet managers have the benefit of a GVWR of up to 23,500 lbs. and the truck can be upfitted. It's all thanks to the Chassis Cab's tough frame with smooth rails. In fact, all bolts and solder points are under the truck's frame for easy upfitting.
When will the Chevy 6500 be available?
This powerful truck is now in stock at Carl Black Kennesaw! The experienced team of experts in our dedicated fleet and commercial department can answer any questions you might have and help you find the perfect truck. Our team will take the time to listen to your needs and concerns and streamline the entire buying experience so you can spend less time in our dealership and more time enjoying your new purchase. Stop by and see us today!
Read More: What's new on the 2021 Chevy Colorado?